---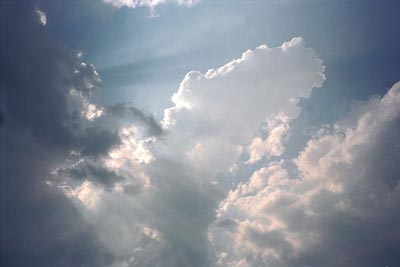 Peace
A Message from the People of America
to the People of the Middle East
---
introduction by Michael North
In June 2003, I heard about a Peace Walk in Israel through friends in Jerusalem. Hagit Ra'anan, an Israeli activist, told a fascinating story: at a time of intense tension in the ancient city, groups of peaceful demonstrators, led by Israelis and Palestinians and including people from many faiths in Jerusalem, were peacefully walking through the streets and into the countryside in silence.
It was a political statement, and a meditation, and was received with respect by most in the region.
I decided to contribute an upcoming Peace March, on behalf of my company, Greenstar. We would sponsor a symbolic Peace Pole, carrying messages from the world's great religions and philosophers, raised over the troubled town of Nazareth. And I asked a great friend, Chuck Spezzano, one of the founders of Psychology of Vision, to compose a message that would be heard at an upcoming event.


Here is Chuck's message:
Friend to the Earth (text)
Friend to the Earth (audio MP3)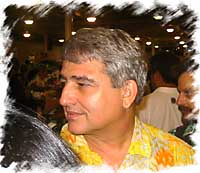 The Peace message was sent over the Internet to Israel as a high-res MP3 to Hagit Ra'anan. She converted it the next day into a standard CD, and the message was heard at dawn at the Sulha Gathering, July 1, 2003.
Here are some pictures of the event:
And here is a short Quicktime movie of images from the walk, with a condensed version of the Peace message as a soundtrack:
---
Following is a description of the purpose of the Peace March, which is an ongoing series of events. The description is provided by one of the main sponsoring groups, The Middle Way.
You may also read press accounts of the events here:
Shalom -- Salaam -- Aloha

---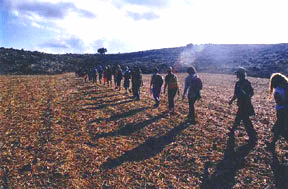 Middle Way
Compassionate Engagement in Society


"You cannot solve problems with the same mind that created them"
(Albert Einstein)


---
There are many who feel a deep urge to bring their spiritual values, insights and heartfulness into action within society. It is a wish to find ways to create a more compassionate world. It is a need to express our voices for peace and reconciliation.

We are living in difficult times. All the people of the region, Jews and Arabs, Israelis and Palestinians, must live, work and bring up their children within a climate of anger, hate, violence and despair. There is an urgency in the call to stop, to look at ourselves and where we are going, and to restore basic human values of respect and non-violence. Many share the understanding that the time for change is now. We need to find the appropriate ways that touch the heart and restore our humanity, and so make real tikkun possible.

This has led to some spontaneous programs in the past few years including the successful 'Transformation of Suffering' dialogue workshops between Israelis and Palestinians. The recent silent and mindful peace pilgrimages ("The Walks") have been extraordinarily successful, not only in empowering participants, but also in having a real impact and being widely reported in all the Israeli national media as well as abroad. It shows that there may be a dramatic new opportunity for new forms of action for peace. It shows that the timing is right. We have found some effective new forms. Now we need to build on them and bring them out into the world.

We would like to invite you to join with us in establishing a new Amuta, non-profit organization, which will support, promote, and extend these activities in the region and abroad. Named Shvil Zahav, the Middle Way, this organization stands for the middle ground of sane, and balanced action, to promote tikkun and healing, and the path of peace and reconciliation . It emphasizes that the way we do things is as important as our goals: we should not forget peacefulness while talking of peace.

The Amuta will do the kinds of jobs which are hard for a spontaneous group to manage. These include serious fund raising; organization and networking on a national level; supporting and establishing activities on a firm footing; maintaining records and information; public relations and media; gathering international support and recognition, and so on. In addition, the Amuta will belong to the Ruach HaShalom coalition, to make sure that it is co-ordinated with other peace groups and does not duplicate efforts.
Specific programs which may be supported and developed by Shvil Zahav include:
Expanding the silent peace walks throughout the country and abroad
Initiating dialogues and conflict resolution activities in association with the silent peace walks.
Programs to teach non-violence in communication and action to all kinds of groups and organizations including political and professional bodies.
Bringing teachers and arranging courses on spirituality in social action by international teachers such as Paula Green, Joanne Macy and Louise Diamond.
---



Silent protesters
try to make message heard
above political roar

September 7 2002


---
Mahatma Gandhi and Martin Luther King would have approved.

While politicians on both sides of the bloody Middle East conflict continued to posture and pontificate, a small but growing group of Israeli Jews and Arabs decided to take matters into their own hands.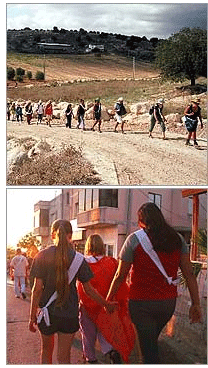 Several hundred Jewish and Arab Israelis last month took part in a week-long peace walk from Haifa to Amirei Hagalil in the Upper Galilee near Safed.

In a country in which practically any public gesture is seen as a political act, Stephen Fulder, the walk's Oxford-born organiser, believes he and his co-walkers managed to stay as close as they could to the apolitical twilight zone.

"The peace walk is some new way of getting people out of their houses, and trying to do something which is not left-wing or right-wing, or violent or angry," he said. "It's not entirely apolitical. I think it's on the boundary between politics, psychology and social action." Mr Fulder and his colleagues adopted what he described as a minimalist approach in devising their protest. "All you do is walk in a line and shut up," he explained.

"It seems like an absurd change. People say: 'We walk a lot, we can do that.' In fact, it's a very big change. By walking in silence you are much more protected against the thing blowing up into violence as soon as there's any confrontation."

Mr Fulder also took part in Israel's first silent peace walk, last northern spring, between Jaffa and Jerusalem.

"When we went through Jerusalem, for example, on the first walk there was a lot of anger directed at us from youth in the streets. We tried to employ a new form [of protest] in which we express peace as a kind of experience which also protects us against becoming violent for the sake of peace."

Last month the group that took part in the Galilee walk had overnight stops in Arab and Jewish towns along the route.

Mahmoud Salami, a resident of the Arab town of Kalansua, said the seven days were full of memorable events.

"People came out of the shops and houses to watch us. Suddenly they all starting clapping and cheering us. They came up to us to offer food and drink. We couldn't respond in words but we gave them flyers to explain to them what it was we were trying to do."

Some Jewish Israelis have expressed disappointment with such peace activities, saying most participants are Jews and Arab Israelis have little interest. Only about 10 per cent of the Galilee peace walkers were Arabs. Mr Salami says it is only a matter of time before the country's Arab population joins in in force.

The walk ended in a "sulha" - a public act of forgiveness or pardon - at Amirei Hagalil, involving fiery discussion between Jews, Muslims and Christians.



This story was found at: Sydney Morning Herald

---

September 8, 2002

What They Were Thinking
Interviews by CATHERINE SAINT LOUIS


from the
New York Times online
---

Ariella Wizansky and Yazid Sawaed, Galilee, Israel, Aug. 21, 2002

Ariella Wizansky (right, in cap): ''This was at a sulha peace gathering. Sulha means forgiveness. First there was a silent walk from Haifa to Amirim, Arabs and Jews walking together silently. There were certainly people who saw it as naive or crazy because we had no security. I'm Israeli. I know people who see an Arab and panic. We were willing to risk giving up our fear. It's part of the change we're trying to create. That might sound like a hippie slogan, but the five days of walking and this sulha were like seeing the change happening in real time.''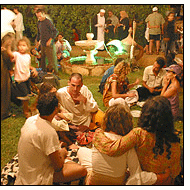 Yazid Sawaed (on Wizansky's right): ''I was sitting there with two Israeli girls and another Israeli, Itai Goldin, who lost his brother a few weeks ago in a bus explosion. I felt a lot of guilt and shame, as if I was responsible. I was a bit afraid. But as I met Itai and later his father, they accepted me and gave me the feeling that I'm not to blame. It's like a gift from God to meet this family. It's almost as if his brother's death hasn't deterred Itai. It has made him want more of a connection with me. I've had Israeli friends before, but this is special.''

Copyright The New York Times Company
---


Walk silently and carry no shtick

Jerusalem Post; Jerusalem;
Oct 7, 2002;
Karin Kloosterman;


---
Abstract:

"We are using silence as a tool for peace," commented The Walk's public relations spokesman Ron Cohen, pointing out that the walk is not a hike but a peace march calling for the end of suffering and the right for people to live in peace. The organizing committee, comprising both Jewish and Arab Israelis, operates on a volunteer basis. It encourages people to come out for a few hours if they can; stressing it is not necessary to take a vacation from work to participate. Since the walkers will be using complete silence as their tool for peace, it is respectfully requested that small children be left at home.

Full Text:

They will not speak to you, but ask you to walk with them silently. They will bear no weapons nor slogans, making no protests nor speeches. In single file, with white sashes across their chests they will walk through Arab and Jewish towns. Their only desire is Palestinian and Israeli reconciliation.

Inspired by the non-violent means of peacemaking of Mahatma Gandhi and Martin Luther King, The Walk will be a seven day march beginning at the end of October. It is organized by ordinary people appealing to others who want to make peace a reality within Israel's borders.

"We are using silence as a tool for peace," commented The Walk's public relations spokesman Ron Cohen, pointing out that the walk is not a hike but a peace march calling for the end of suffering and the right for people to live in peace. The organizing committee, comprising both Jewish and Arab Israelis, operates on a volunteer basis. It encourages people to come out for a few hours if they can; stressing it is not necessary to take a vacation from work to participate. Since the walkers will be using complete silence as their tool for peace, it is respectfully requested that small children be left at home.

A days' walk may include three to four hours of quiet walking with a stop for lunch. Cohen, a classical flutist and a special events chef said someone else will be doing the cooking.

After each day of peaceful marching at what is intended to be a true intercommunity event, people will fill their bellies and souls with dinner, music, campfire meetings and workshops. The setting for each evening will be different: schools, community centers, private houses and camping grounds.

Participants are asked to bring comfortable shoes, camping gear and warm clothes for the evenings. A truck will transport the traveling camp from station to station, resting with the walkers on Shabbat.

"We [will] accept and respect the traditions of all the villages and cities we pass through," said Cohen, "If we pass through sensitive areas, we [will] ask the walkers to cover themselves in the appropriate way."

There have been two successful walks in the past: one last Passover that began in Jaffa and ended in Jerusalem and another this past September which started in Haifa and ended at Amirim in the Galilee. "The line of walkers radiates power," says Cohen, as he encourages participation.

Beginning in Pardes Hanna on October 30, The Walk will pass through the Wadi Ara region including the city Um el Faham, a central point of some of the past uprisings. Call 053 591 073 for full details.

(Copyright 2002 The Jerusalem Post)
---
Friend to the Earth
Chuck Spezzano's message of peace
Peace is the state of wholeness that emerges from Oneness. It is a state of being without conflict.

From peace comes every good thing—love, happiness, abundance and health. Without peace and a commitment to partnership, we perceive others as unequal and unworthy, and we attack them as the source of our deprivation or as deserving of attack. Those who are weak are afraid, and so they attack.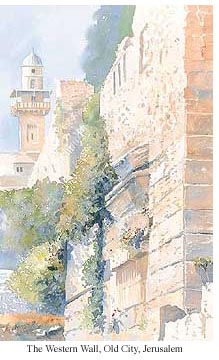 This is not a reason to be afraid ourselves, and out of weakness attack them back. This is a reason to help them out of their fear. When we are attacked we have the choice to either attack back, bringing about an ever descending spiral of hurt, hate and spite, or instead to respond to the call for help present in every attack. This helps and redeems those who attack not knowing what they do, and we end the hatred and restore peace. This responsiveness is a sign of great strength by those who value peace.

We know that peace must begin with us. To accomplish this we must give up our judgment, the cause of all suffering. Judgment relinquishes real power for attempts at domination and control over others. Jailers and those they jail spend a great deal of time in prison.

To give up judgment, we must give up self-judgment that is generated from the destructive illusion of guilt, whose purpose is to protect ourselves from fear, keep our indulgences, stay separate and darkly glamorous and to fight our identity as a spiritual being. The self-attack that comes from self-condemnation is the root of all attack and the greatest threat to peace. Those who are innocent only know peace, and see no reason to attack. They are full of compassion and understanding, so they reach out to help.

They are two paths from this point in time. One is a path of judgment that leads to separation, attack, counter-attack, revenge and hatred. The other path chooses peace and blesses instead of judges. Blessing helps others and blesses ourselves, healing our sacrifices and releasing the burdens brought about by judgment.

The path of blessing bridges our differences in communication and finds what is shared. Where there is joining there is peace and equality. Where there is separation there is fear, a belief in inequality, deprivation and the logic of attack. Victims and their victimizers are bound together in hell until forgiveness frees them. What victims do not heal keeps them lost in suffering or victimizing others instead. All of this builds the path of separation and judgment. Where we join there is forgiveness, love and integration, the great healing principles that end conflict and bring about wholeness and peace.

At the present time there is much darkness and the world threatens to continue in a descending spiral of violence. Revenge only leads to revenge. It can never bring back a loved one or end the pain inside. Only forgiveness and the memory of God can do that. Attack breeds attack and once we follow this path there is no one we will not attack, even those we love the most. Attack is not discreet. If we walk the path of hatred, we cannot escape the effects of hatred on those we love.

We have made a sacred promise to bring peace in what seems like an impossible situation. Have faith and be heartened and you will hearten others demonstrating the vision of peace.

In a dark time, trust births the light. There is nothing that your trust would not heal. Trust what unfolds, because only then can there be peace and the fruits of peace. It may seem that you are surrounded by darkness and are a lone voice for peace, but that is when you shine the brightest. The star that shines the brightest is the one surrounded by darkness. But finding other stars as you have found today all around you is a victory. You have become a constellation of stars showing the way home, lighting the path to heaven, the consciousness of Oneness.

Be heartened. The quickening is upon us. Both consciousness and its resulting change have accelerated. May you fulfill your purpose and complete your sacred promise. May you be an instrument of peace and a fountain of miracles in this world thirsty for love.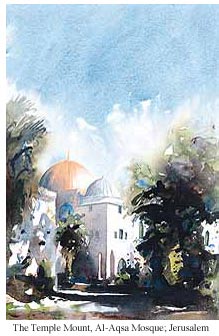 You have stepped beyond your countries, your cultures, your politics and your religion for the wholeness of a greater truth. Now you are a citizen of the world. Now you embrace all humanity as your country. Now you value all in the common wealth of mutuality and equality. Now you live as God's child with all of His other children.

You are not few. You are many. Thousands of angels and beings of light go with you. Behind each of you, ten thousand of your brothers and sisters across the earth from every country, every walls of life, every political persuasion and every religion walk with you. Your ancestors cheer as heaven's grace and redemption flow through your peace.

Oneness and the total peace it brings is millions of years in the future. This does not make us orphans; with faith this makes us pioneers. We carry no weapons, for we are soldiers of peace. Our bodies, like the bodies of every man, woman and child, are fragile and easily torn, but our mind is armed with truth. Our strength will come from our spirit which is power and brings empowerment. Our heart is full of love and our hands reach out in friendship. Because our deepest desire is for peace, our grievances are healed and our burdens are fearlessly surrendered as we pray for peace within ourselves.

Once again, as this occurs we become an instrument of peace, bringing unity, beauty and increase for the world. Until we become friends the world over, there will be strife. Until we have embraced as a way of life the simple concept of friends helping friends there will be enmity.

Today let us promise together that there is no one that we will not reach out to. Every child is our child. Every gray hair is our grandmother, our grandfather. Everyone, no matter their race, creed or country, is our brother, our sister, our best friend. Without this vision, there is no sanity, only war. There is no sense of wholeness or safety, only the endless vying that comes of fear, competition and conflict.

Every day, let us promise to open our hearts and promise that in every way we are not at peace or a true friend to others, that we will ask to be healed and returned to peace. It is easier to die for what one believes than to continuously live for it. Let us purify our minds. Let us heal our hearts. Let us be a shining example of peace today, day after day. Let love and kindness flow through us like a river.

We, who are friends of the earth, when we finally lay our bodies down, from all across the globe we will hear the cries: "He was my best friend. She was my best friend. When I had no hope, he was there. She showed me the way—by living the way. Now I will be that way. Now I will give that gift. I too shall be a friend to the earth…"

And so it goes from the torch of your heart and the peace of your mind, many hearts are lit and peace becomes shared.

Let us open our hearts and minds today and become one heart, one mind, one world. With our friends here, let us feel the peace grow within us now. Let us join in a holy concert of peace so that we might reach across the world to every friend in every place. Today and from now on let us be a friend helping our friends.

---