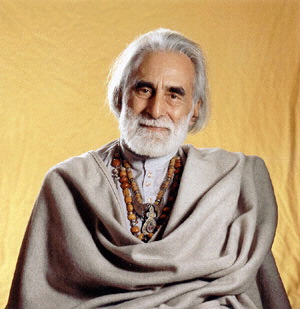 Pir Vilayat Inayat Khan, the renowned Sufi master and mystic, passed peacefully from this world Thursday, June 17th, 2004, at his home in Suresnes France, with his close family and a few of his close friends around him.

Pir Vilayat was one of the first Muslims in the modern era to bring a positive vision of Islam to the West, beginning in the late 1960's. The Sufi tradition he represented, with its origins in Pakistan, Iran, Iraq and Turkey, is the most intellectually open strand of Islam, as well as the most ecstatic, experiential one. Many people in the West know Sufism through the poetry and art of Rumi, and through the work of Pir Vilayat and his father, Pir Inayat Khan.

Pir Vilayat said recently,

"We are living the crux of the human drama right here and now.

"The issue is, what are our values? And are we prepared to uphold them? Rather than fretting over the sword of Damocles hovering over our own heads or fleeing it to save our lives, we need to involve ourselves by offering a helping hand, to maintain order against abuse with authority but without hate, to affirm our solidarity in service to the cherished ideal of a civilized people inspired by the divine ideal.

"Let our distress not overshadow our faith in a better world and our joy of contributing to it each in our way."


His father, Pir Inayat Khan, offered a prayer for peace that people of all faiths, and all people of good will, can embrace:
---
Prayer for Peace

Send Thy peace, O Lord, which is perfect and everlasting,
that our souls may radiate peace.

Send Thy peace, O Lord, that we may think, act and speak harmoniously.

Send Thy peace, O Lord, that we may be contented and thankful for Thy bountiful gifts.

Send Thy peace, O Lord, that amidst our worldly strife we may enjoy Thy bliss.

Send Thy peace, O Lord, that we may endure all, tolerate all,
in the thought of Thy grace and mercy.

Send Thy peace, O lord, that our lives may become
a divine vision, and in Thy light all darkness may vanish.

Send Thy peace, O Lord, our Father and Mother, that Thy children on earth
may all unite in one family.

Pir o Murshid Inayat Khan

---


More about the Sufi Order in the West here:
http://www.pirvilayat.org