Congressman Alcee Hastings
and Congressional Black Caucus
to Challenge Florida's Presidential Electors
---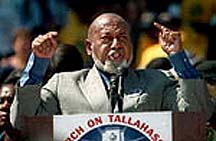 Congressman Alcee Hastings
Washington, D.C. January 4, 2001 -- Florida Congressman Alcee Hastings today agreed to develop a strategy for challenging Florida's Electors on behalf of the Congressional Black Caucus (CBC), which met earlier today.
During the meeting, Congressman Hastings urged his colleagues to formally challenge the acceptance of Presidential Electors from Florida, despite the fact that no Senator has committed to join him in this effort. Congresswoman Carrie Meek and Congresswoman Corrine Brown, both of Florida, joined Congressman Hastings in urging this show of leadership on the part of the CBC. "The three of us witnessed first hand the unfairness of the counting of hundreds of thousands of Florida votes, the disenfranchisement of countless men and women who stood in line to make their voices heard." At the conclusion of the meeting, Congressman Hastings was asked by the CBC to develop an objection strategy.
"As Members of the CBC, it is our duty to publicly acknowledge our strong opposition to the acceptance of the Presidential Electors from Florida for Governor George W. Bush," said Congressman Hastings. "In defense of Democracy, in defense of every American's right to vote.... Beyond the court-sanctioned injustices that we experienced in Florida, let's face it: Vice President Al Gore won this election. The American people are looking to us not only for public outrage, but also for leadership. In this case, leadership calls for courage," Hastings said.
---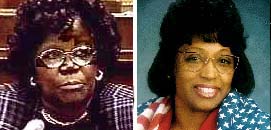 Congresswoman Carrie Meek (left) and
Congresswoman Corinne Brown (right)
---
Congressman Hastings urged the CBC not to be daunted by the fact that no Senator has agreed to sign the objection as required under the rules. "While the rules may prevent the hearing of our challenge, they do not relieve us of our responsibility to the voters in this country who stood in line to make their voices heard, only to find that their voices had been muted by injustice."
Congressman Hastings also urged CBC members to join him in reaching out to Democratic Senators to co-sponsor the challenge and thereby make it legal. "The disenfranchisement of tens of thousands of voters in Florida, as well as illegal activity by Republican election officials and the unprecedented and unwarranted interference by the U.S. Supreme Court, all cry out for full and open debate by both Houses of Congress," Hastings said. "We need only one Senator to make that debate possible, and we appeal to every Senator to join us," he said.
Congressman Hastings will hold a press availability on Friday January 5th on Capitol Hill, at a place to be announced tomorrow morning. More on the challenge of Florida's electors -- including the place and time of Congressman Hastings' press availability, a collection of the credible allegations of fraud and official misconduct by Florida officials, and reports on Congressman Hastings' progress in securing a senate co-sponsor - - will be available on the Internet at http://www.trustthepeople.com. TrustthePeople is an initiative of Democrats.com, the largest independent community of Democratic activists on the Internet.
"We applaud Congressman Hastings and the Congressional Black Caucus for their courage in doing the right thing," said Democrats.com co-founder David Lytel. "We have documented fraud in the Florida elections, and the American people -- as well as Congress -- must be given all of the facts before Florida's electors are awarded to George W. Bush," he said.
Democrats.com is organizing rallies at the district offices of Senators and Representatives on Friday at 12 noon, including both Democrats (Barbara Boxer, Paul Wellstone, Dick Durbin, Zell Miller, Carrie Meek, and Robert Wexler) and Republicans (Rick Santorum).
Democrats.com is also sponsoring a rally outside Congress on Saturday starting at noon. "We call upon all Americans who are outraged by the election to call and visit the offices of their representatives and tell them that Florida's Electors were stolen, not won, and should therefore be rejected by Congress on Saturday," said Democrats.com co-founder Bob Fertik.
For more information:
David Lytel (315-472-0581) or Bob Fertik (212-396-3457)
---

Democratic Senators' direct phone numbers
are available here:
[*][*][*][*][*][*][*]