---
Hale'iwa Arts Festival
North Shore of O'ahu, Hawaii
July 17-18, 1999
Selected artists, by Michael North
Page 1 below:
Hina Lei, Rebecca Gates
Page 2: Stephen Geritz, Alice Ching

Page 3: Robbrecht Troost, Unknown

Page 4: Scott Fuller, Dennis Green

Page 5: Jeff Kimerer, Bill Braden
for review only; artist names and contacts subject to verification
please email corrections to Michael North
---
Hina Lei Hawaii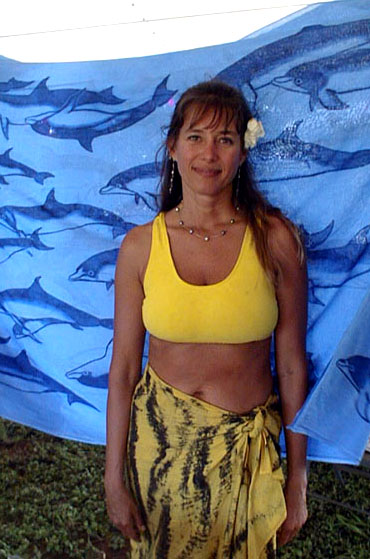 The "pareau" is two yards of 100% cotton cloth used to wrap the body in a variety of ways, or as a all hanging, tablecloth, etc. Individually hand-printed and dyed in Kamuela, Hawaii, each piece is one of a kind with original designs by Hinalei Hawaii, inspired by our Polynesian culture and the spirit of Aloha.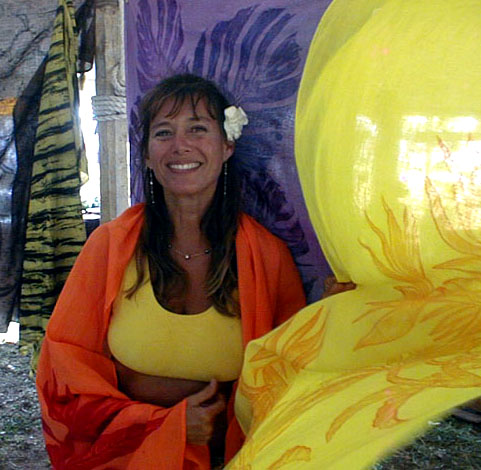 Hina Lei Hawaii
artist's name
P.O. Box 2247
Kamuela, HI 96743
808-885-5086
---
Rebecca Gates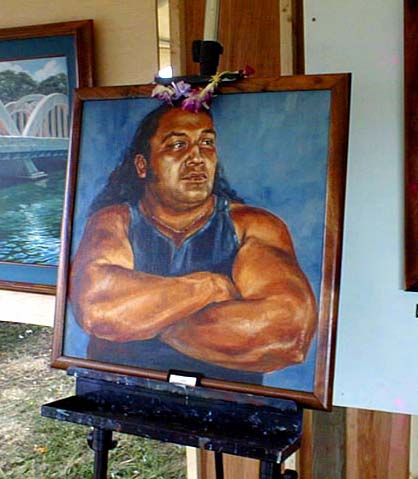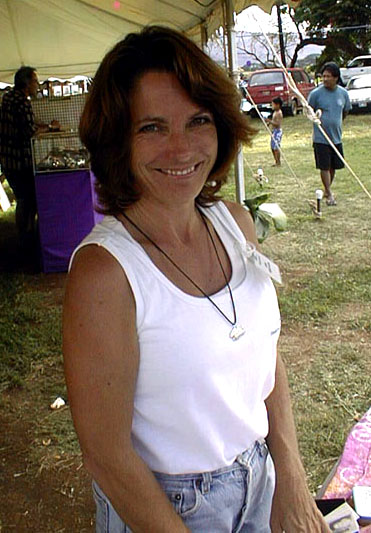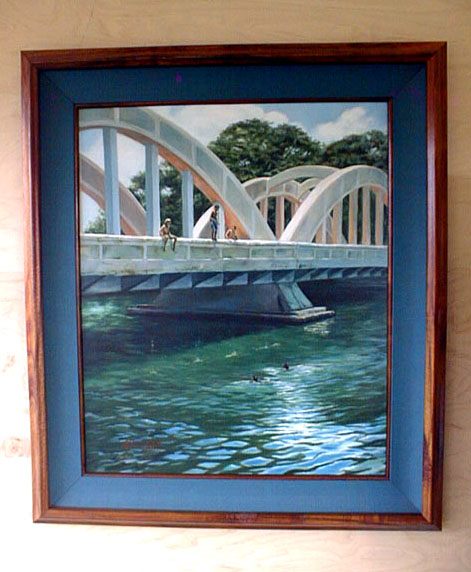 "Anahulu Saturday"
theme image for the Hale'iwa Arts Festival,
1999
"Most would agree that the Anahulu Stream Bridge, or Rainbow Bridge, is the signature landmark of the Hale'iwa area of Oahu's North Shore, and therefore, the logical favorite for the Arts Festival poster," says Gates. "For me, that one bright Saturday, as I watched the kids jumping off the bridge, swimming, being kids, I felt this is the real heart of Hale'iwa, that joy of childhood we all cherish. The reflected light on the bridge seemed to echo the 'glow' on the kids' faces, and that's what I wanted to restate in 'Anahulu Saturday.'"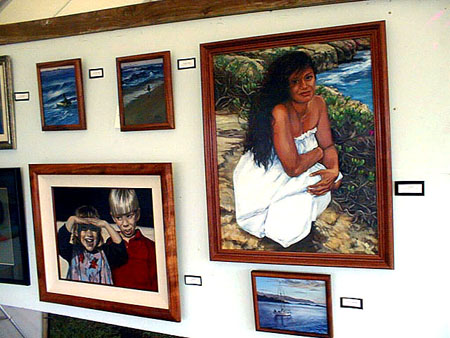 Rebecca Gates
address, phone, email, contact info
---
Page 2: Stephen Geritz, Alice Ching

Page 3: Robbrecht Troost, Unknown

Page 4: Scott Fuller, Dennis Green

Page 5: Gina Overton, Jeff Kimerer, Bill Braden